Link to play now:
https://h5.g123.jp/game/wixoss?platform=honeysanime&utm_source=honeysanime&utm_campaign=wixoss_en_article_media_all&utm_adgroup=20220630
Get the latest updates:
WIXOSS MV Official Twitter: https://twitter.com/Wixoss_MVen
G123 Official Twitter: https://twitter.com/g123_en
G123 Official Facebook: https://www.facebook.com/g123.global/
About the Game
Form a party with the protagonist and 5 allies, and compete in simple turn-based combat!
WIXOSS MV is an RPG based on the popular WIXOSS trading card game that can be played immediately by opening the link in any web browser. Form a party with a protagonist and five allies, and take part in fully automatic battles. Join Alto (voiced by Erisa Kuon), enter the virtual space known as WIXOSS Land, and discover the mysterious new area known as "Labyrinth".
---
SSR LRIGs "Grow", unlocking new artwork! 5 forms to unlock for each character!
With the "Awakening" system, SSR LRIGs can "Grow", unlocking new forms with new artwork. Unlocking the final form for each character will reveal a special design created exclusively for WIXOSS Multiverse.
Characters from multiple series come together in all-star battles!
More than 60 LRIGs and SIGNIs from both the TCG and the anime are playable. Combine LRIGs and SIGNIs in any way you like, and create a dream team never possible in the anime.
Introducing the cast
Alto (VA: Erisa Kuon)
The 16 year-old daughter of a pianist, and the protagonist of WIXOSS MV. She has a lighthearted and kind personality, but tends to be a bit shy and reserved. After discovering "Diva Battles" in WIXOSS Land, she decided to reinvent herself.
Burst-chan (VA: Live Mukai)
A navigation AI created to guide newcomers to WIXOSS. She has a wealth of knowledge about the game and its rules, and about WIXOSS Land itself. There are many variations of Burst-chan with different personalities, but Alto's Burst-chan is a little airheaded. She can grow hands, but apparently it's very painful to do so.
Hirana (VA: Saya Fukuzumi)
Leader of the Idol type divateam No Limit. Always an optimist, she has dreamed of being an Eternal Girl since she was a child, and is now aiming to become Top Diva.
Rei (VA: Haruka Shiraishi)
A member of the idol group "No Limit". A talented girl, she is the class president at her high school. Outwardly, she is calm and collected, but deep down she is very passionate, and is well known in WIXOSS Land for her strength.
Akino (VA: Shizuku Hoshinoya)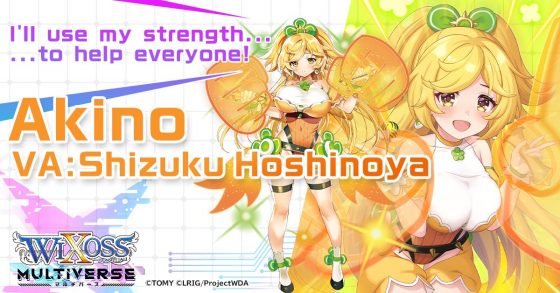 A member of an Idol type Diva team No Limit. Compared to the other members, she has more passion for and better knowledge of WIXOSS. She was reluctantly invited by Hirana to participate in Diva Battles.
Tama (VA: Misaki Kuno)
An innocent pure hearted LRIG who is as cute as a kitten. Although she loves to battle, she has a very gentle and kind heart.
Code Piruluk (VA: Saori Onishi)
A cool-headed LRIG who doesn't talk much. Originally Akira's LRIG, she would eventually become the protagonist of the story.
Midoriko (VA: Minami Takahashi)
An LRIG who behaves very rationally, and speaks like a boy. Her speciality is using Ener to release powerful attacks.
Urith (VA: Rie Kugimiya)
A belligerent and talkative LRIG, who never tries to hide her dark side.
A ton of other fully-voiced LRIGs also appear in the game!
More than 100,000 pre-registrations! All players will receive a starting reward!
Pre-registration rewards are being sent to all players, and are available for a limited time. In addition to more than 10 free gacha plays, players will receive useful items to kick-start their gameplay. Rewards can be collected from your in-game inbox.
Pre-registration Campaign Rewards: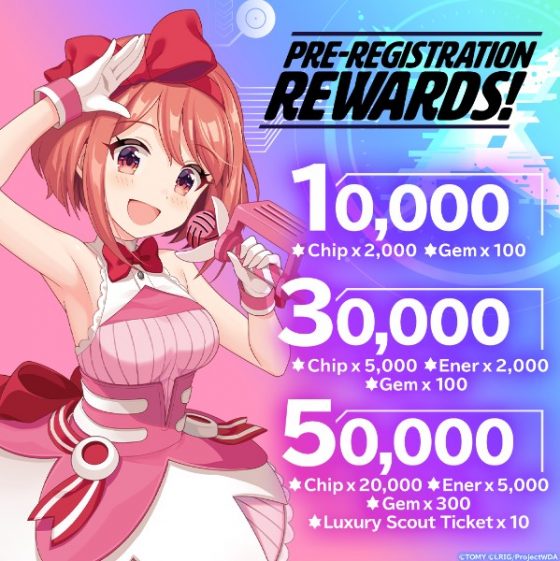 Premium Scout Ticket x 10
Gem x 300
Ener x 5,000
Chip x 20,000
Please note:
Items can be obtained from new servers only, and are claimed from the inbox in-game.
For details, see in-game.
While unlikely, items may differ from those advertised.
Release Campaign – Get a powerful SSR LRIG!
Log in for 7 days and get awesome rewards – including SSR At and Yuzuki!
Collect login bonuses for the first 7 days after starting the game. Unlock SSR LRIG At on day 2, and Yuzuki on day 7.
Clear Stage 8 of the story and unlock SSR Remember (Blue)!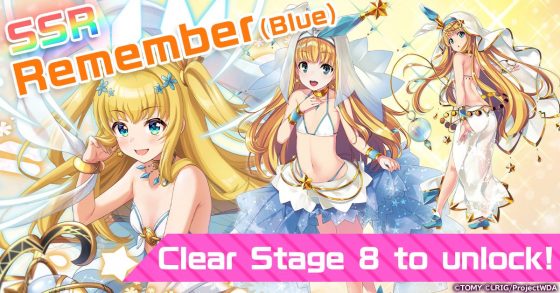 Play for 1 hour and unlock SSR Yukayuka!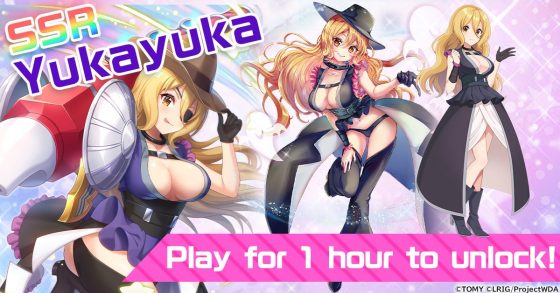 Tons of great value packs available!
First purchase only! Get SSR LRIG Midoriko for only $0.09!
For just $0.09, pick up a powerful LRIG that you can use immediately to kick-start your gameplay. This and other great value packs are available to purchase in-game, so be sure to check out what's available!
Basic Info
Title: WIXOSS Multiverse
Genre: RPG
Price: Free (contains optional in-game purchases)
Play the game: https://h5.g123.jp/game/wixoss?platform=honeysanime&utm_source=honeysanime&utm_campaign=wixoss_en_article_media_all&utm_adgroup=20220630
Official Twitter: https://twitter.com/wixoss_MVen
.